.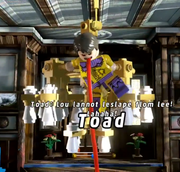 Write the first paragraph of your page here.
Section heading
Frog Man Is a Villain In The Great Outdoors When He Was With Jaggerchump Working Together Frog Man and Jaggerchump Has Almost Cracked The World Into 2 Pieces And He Was Good Enough Too Hang His Tounge On The Bar.
Frog Man Has 3 Missions For You If You Finish 2 Of His Missions He Will Locate His Charcter Token And He Will Give You The Character Token
He Appears In The Great Oudoors (TV) When Swimmington Is Launching Them Into The Air
He is ruler of the Dead Land of Monks
Ad blocker interference detected!
Wikia is a free-to-use site that makes money from advertising. We have a modified experience for viewers using ad blockers

Wikia is not accessible if you've made further modifications. Remove the custom ad blocker rule(s) and the page will load as expected.